This is the post for the Wednesday, February 17, 2016 class meeting.
Stereotypes about College Students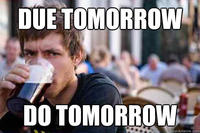 While I'm taking roll and getting set up, visit the Google Doc for your class and brainstorm some stereotypes about college students. We'll use the list you come up with later in the class. I'll close the file at the end of each class session, and then add them back this afternoon.
WordPress Updates
The horror! The horror!
Group Activity
We'll combine satire and design to create stock photos and related material in small groups.
Stock photos of college students:
Project inspiration:
Today your group will
exchange contact information.
decide on roles for group members.
choose a focus for 5 images (either original or based directly on existing stock images, all on one theme or on several).
make plans for a photo shoot on Friday (and Monday if necessary).
prepare to take all photos in or around Shanks.
Homework
For Friday's session (2/19), do the following before class:
Gather whatever props, wardrobe, and other materials you need for your group's planned image. Obviously do not bring anything illegal or inappropriate for campus and the classroom.
Be sure your cell phone is charged if you will take photographs!
---