This is the post for the Wednesday, January 27, 2016 class meeting.
Tell Me Your Majors and Minors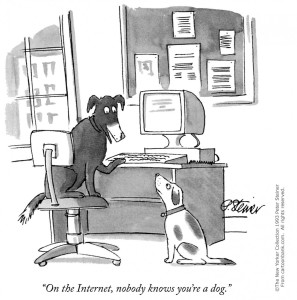 Login to your computer, and complete the Majors/Minors Survey for your class time. The survey is anonymous.
Why? I need an idea of your majors and minors to come up with examples for the course. Many of you have more than one major and/or minor, so the information I can see in Hokiespa isn't adequate. Further, your major may not give me enough information. For instance, you may be pre-law, but all I can see is that you are a Language and Literature major.
Questions about Project 1
I've created a Google Doc where you can post any questions that you have about Project 1. Go to the document for your class, and add any questions you have. I'll then use your questions to guide the information we discuss for the project.
In-Class Writing
Go to the Quizzes tool in Canvas and take the "Project 1 Audience and Goals" quiz. You will tell me about your goals and audience for the first project and your portfolio.
Homework
For today, please do the following:
Before Friday's session, please do the following:
1:25 Class: I my be late, as we have a department meeting immediately preceding class.

Log onto Lynda.com with your Virginia Tech PID and password. View the "Images and Words" (11m 24s) from Foundations of Layout and Composition with Sean Adams.

Take a photo (or find one) that you can edit in class, and put it someplace that you will be able to access in class. It can be an image you want to use in Project 1, but it doesn't have to be. Choose something appropriate for the classroom.
For Monday's session, if you want to get ahead, do the following before class:
Have a draft of your image and text ready to share in class. We will spend part of the session on peer review and part talking about how to submit your work and the reflection comments.
---